YOUR EXPERTS IN MOBILE PODIATRY
Our goal is to provide top quality podiatry in Tauranga. What makes us different from other podiatrist within Tauranga, is that we are 100% mobile and only offer mobile podiatry in Tauranga. Whether this be podiatry at a rest home or podiatry in your home, we are able to bring the podiatry clinic to you.
How can we help?
Vital Feet Podiatry has a very unique clinic - your home! Whether that's your residential home or an aged care facility, our podiatrists come to you every time.
We're also the only podiatry team in Tauranga that specialises in older feet and brings a full in-clinic experience to you without compromise.
Select your service
We take the time
We don't rush, instead choosing to work carefully and gently while getting to know each patient and building genuine, meaningful relationships.
Aside from providing a thoughtful service, this enables us to talk through your concerns and notice problems that would otherwise get overlooked. We believe the little things matter.
More than just skin & nails
Aside from all aspects of skin and nail care in older feet from corns and calluses to thickened nails, our podiatrists also perform specialised falls risk assessments and care, testing and treatment for fungal nail infections, and offer the #1 leading painless and non-surgical treatment of ingrown toenails, Onyfix.
Experience matters
Our podiatrists provide exceptional medical foot care, holding either a PhD or first class Honours in podiatry and specialising in older feet. Our services are superior too nurse-based pedicures or beautician services. Seeing us gives your feet the best experience and expertise possible - and the peace of mind that you're in safe hands.
Your feet are in good hands
Lisa Kearney
---
Owner and Senior Rest Home Podiatrist - BHSc Hons Podiatry.

Our rest home specialist Lisa is an NZ-registered podiatrist and member of Podiatry NZ. It was Lisa's passion for exceptional service with a smile that founded Vital Feet Podiatry in 2017. With extensive knowledge and experience in all aspects of podiatry, Lisa quickly noticed that her favourite days were those where she'd care for residents of aged care facilities, building genuine relationships and providing care that could make a real impact on the comfort and well-being of those under her care.
Dr. Angela Brenton-Rule
---
Senior Podiatrist, PhD - BHSc Hons Podiatry.

Our in-home specialist Angela is a NZ-registered podiatrist, senior lecturer and member of Podiatry NZ. It was Angela's belief in providing an exceptional podiatry service and the highest quality care that led her to join Vital Feet Podiatry.
Angela has a specialist interest in the older adult, understanding the impact that foot problems have on a person's quality of life and their ability to keep active and independent. Angela's passion for older feet has seen her become only the second podiatrist in New Zealand to achieve a doctoral degree which looked at the foot and ankle characteristics associated with falls in people with Rheumatoid Arthritis in New Zealand.

Providing expert and professional care in the comfort of your own home, Angela enjoys meeting new people and having a positive impact on their lives.
Lyn
---
Administrator

Lyn is the caring and welcoming voice you hear over the phone to help you with your inquiries or to simply remind you of your appointment.
Lyn has extensive experience in business and administrative duties and we are very lucky to have her help. When Lyn is not busy at work you can find her on bike trails visiting some of the gorgeous parts of New Zealand. She is also interested in gardening when the weather permits and relaxing with reading, movies and catching up with friends. Lyn is a wonderful, fun, hands-on granny and family person.
39
Happy Aged Care Facilities
Excellent foot care made easy
Our goal is to make your experience with us as easy, simple and relaxing as possible. There are three steps to having your feet cared for by us: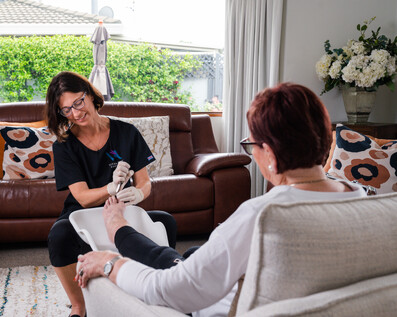 Caring for older feet is our passion
We are the only podiatry service provider exclusively dedicated to aged foot care across the Bay of Plenty and Waikato.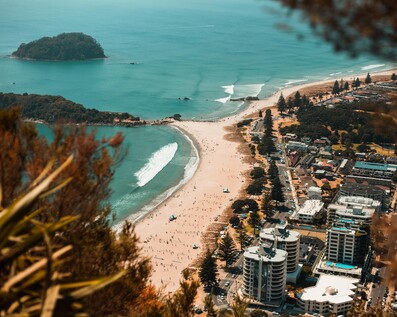 We're your Bay of Plenty Locals!
We are based in Tauranga, and care for facilities as far as Waihi and Rotorua. If you're in the Bay of Plenty or Waikato we invite you to get in touch.
Our Service Area
If you're unsure whether we can come to you, you're welcome to give us a call and we'll get back to you.
Home Visit Podiatry
We treat private homes in Tauranga and the surrounding suburbs.
Aged Care Facility Podiatry
We extend our travel bounds for Aged Care facility (Rest Homes) visits to all over the Bay of Plenty and Waikato region.
Your safety comes first
Your safety is our priority. Rest assured that all our staff are fully vaccinated and always strictly follow all COVID-19 guidelines. Your podiatrist will only visit if they are in full health with no exceptions.
Learn how we can help
Do you have any questions about our services, the way we work or how we can help you or your residents with their foot health?